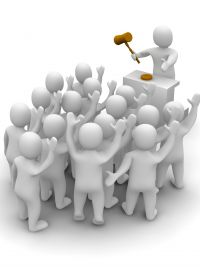 Why Should You List Your Home By Auction?
Bering Real Estate Co.™ offers real estate auction services specializing in the marketing of residential, commercial, industrial, land and specialty properties. With over 20 combined years experience selling homes by auction, Bering Real Estate Co.™ knows how to create buzz and interest from qualified buyers to get your property sold fast! Our knack for professional, accelerated target marketing is the competitive edge Bering Real Estate Co. uses to promote competitive bidding among potential buyers for better current market value results. Learn how listing your home for sale by auction may be a more beneficial vehicle than a traditional home sale listing...
Benefits to Sellers

A 99% successful closing rate and accelerates the sale of your property.
Seller sets terms and conditions of the sale and eliminates long-term carrying costs, including taxes and maintenance.
Property is sold with "AS IS WITH NO CONTINGENCIES".
All transfer charges are paid by the buyer (2% PA transfer tax, title searches, deed preparations, etc.).
Seller knows exactly when the property will sell.
Seller knows that property will be sold at "current market value."
Eliminates numerous and unscheduled showings.
Buyers come prepared to buy - in-person and/or through our mobile bidding app!
Creates competitive bidding among potential buyers.
The price a property brings at auction can exceed the price of a negotiated sale price.
Crystallizes all potential buyers to one location at the same time.
Ensures an aggressive marketing campaign that increases interest and availability.
The auction method of marketing is the only selling tactic the goes up in price and does not negotiate down!

Benefits to Buyers

Buyer knows that seller is committed to sell.
Buyer determines purchase price by competitive bidding.
Purchasing and closing dates are known.
Auctions reduce time to purchase property.
Auctions eliminate long negotiation periods.
Buyers know they are competing fairly and on the same terms as all other buyers.
Buyers receive comprehensive information on property via due diligence packets.
Buyers are able to perform their own inspections such as Home Inspections, Wood Infestation, Radon, etc.
Our Promotional Home Auction Marketing Approach
According to recent studies, only 9% of real estate agents are using video in home listings and over 90% of home buyers use the internet to search for homes. Going with Bering Real Estate Co. for your home auction gives your home the competitive-edge by exceeding the reach of the other 91% of realtors not using video in their marketing strategy, matching how people are most actively searching for homes AND extending your home listing beyond the immediate area to also capture those mobile bid buyers!
Bering Real Estate Co.™ will market your property to thousands of potential buyers.
Bering Real Estate Co.™ gets double the exposure for your auction listing on the MLS also!
Want to know what your home auction listing video could look like? Check out one of our recent local auction videos below.